Archived – Server Offline
The Ark SagaBorn Roleplaying Lite servers are a place for nice people to build, explore, and adventure.
Goals of the Server Cluster:
Have Fun.
Make gathering and building easier so people build great looking bases, towns, and outposts.
Come up with your own backstory that brings something to the shard. Are you a farmer? A trader? A mercenary?
Join us by filling out this survey!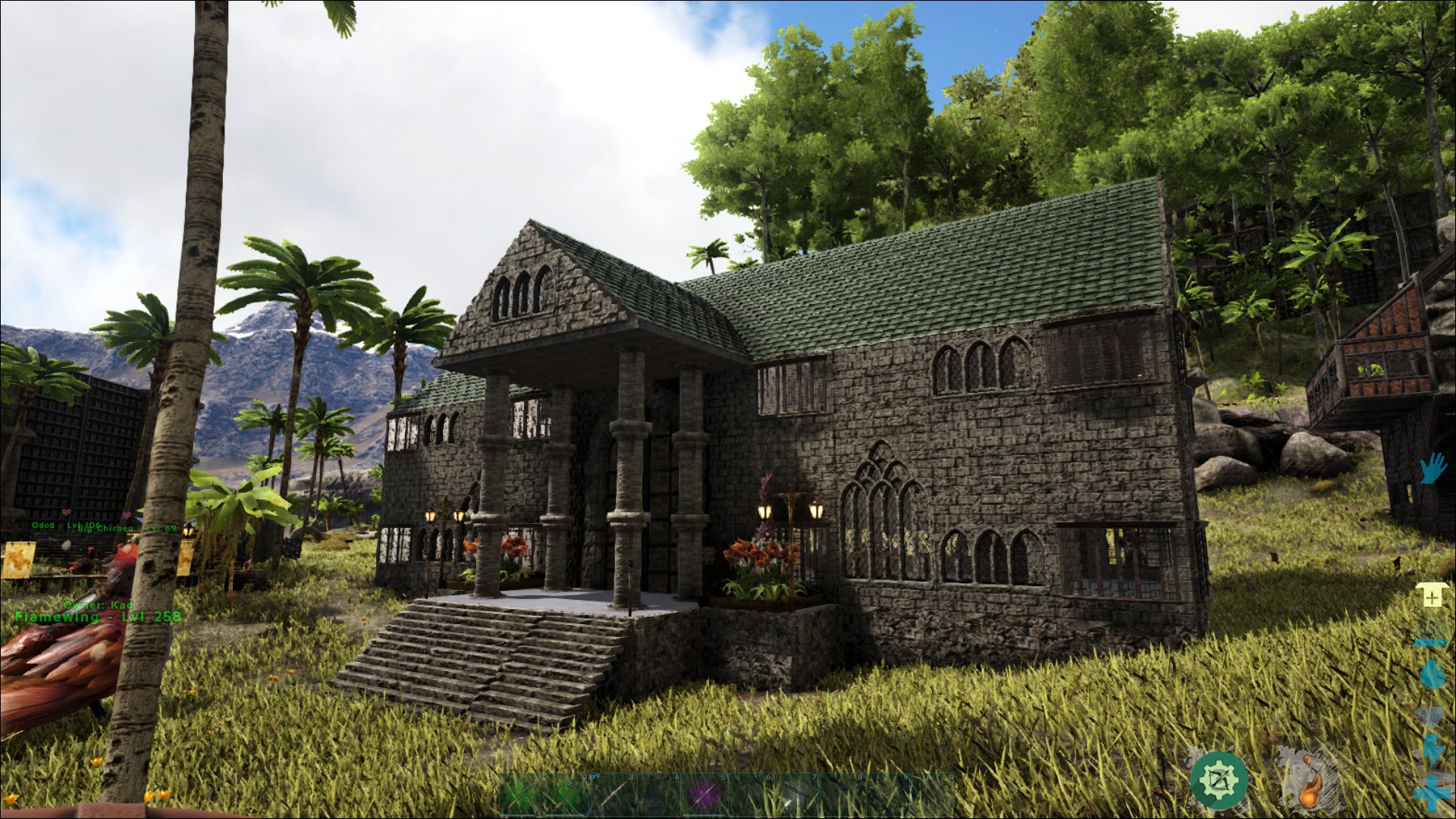 Story
This island is some sort of shard broken from other parts of the universe. I feel I have been ripped from my own world and trapped here, but for what purpose I do not know. I have brought my customs and beliefs from the lands of Atheles, but others may bring knowledge of other planes and places. I came from a world filled with people, and now find myself in this world alone and trying to survive.
Kad's Tale
I have lived a hundred lives. I woke here one day. I used to be a messenger of the city of Kowal. I specialized in traveling between the towns takes messages for those who could pay. Then the demon got me. I thought it killed me, but then I woke here. I bloodied my hands as I had nothing, building tools and weapons. I died. And died. But slowly I built places to protect myself.
Then others started to arrive. Some where here for a bit, others for longer. So I built sanctuaries. Vanad became the most traveled. For a while, things were becoming livable. But then the light came an all disappeared once again. now I am here, living in this puzzle, wondering if others will join me on this inescapable island again.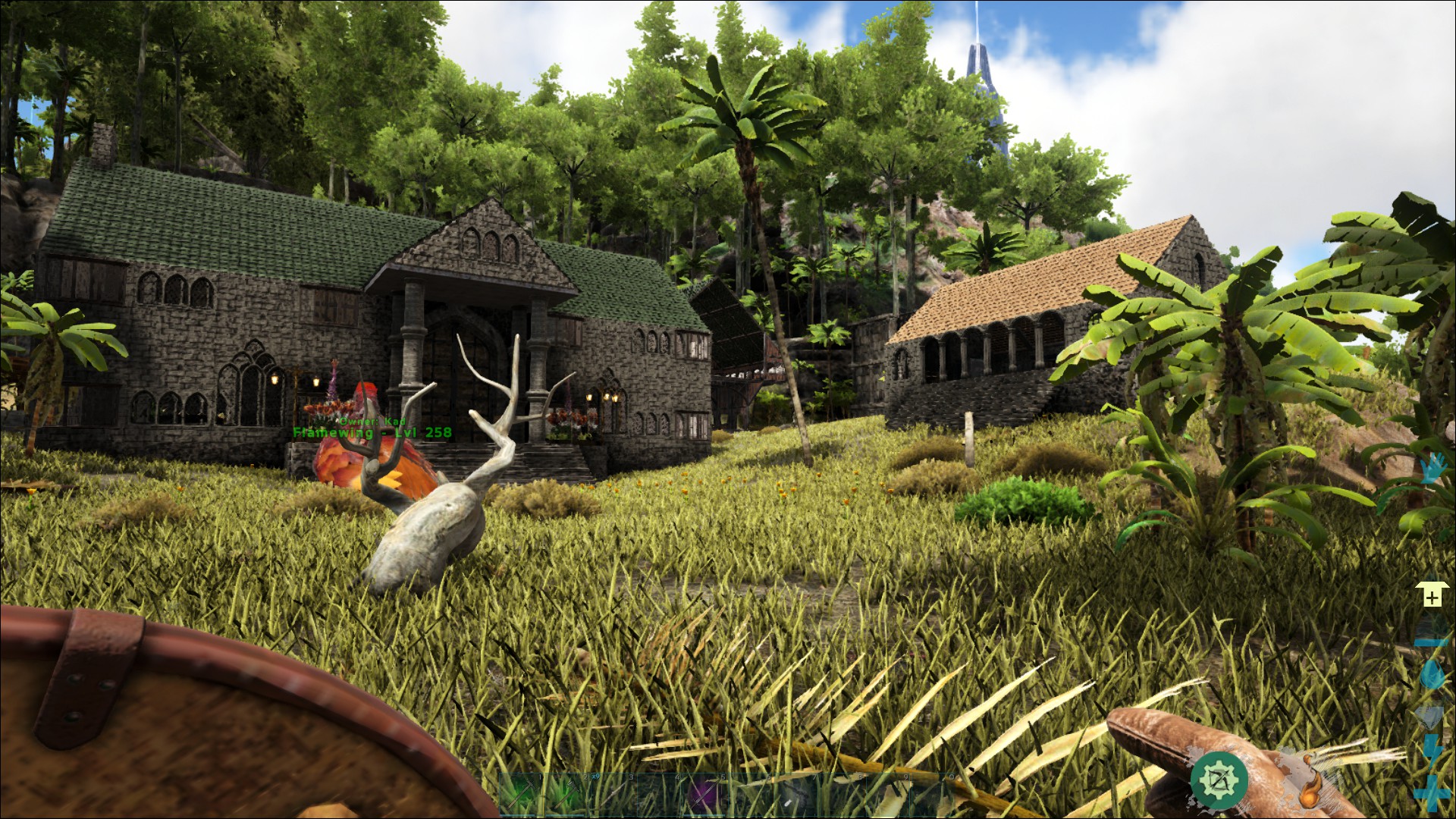 Guide to the Island of Ragnarok
Vanad, the Walled City, was created by Kad and the Firstborn. As the Firstborn disappeared, Kad had a hard time keeping the city in good repair. A year ago a comet flew across the sky, and Kad took it as a sign to return to the old city and start to rebuild.
Vanad is a great starting place, which is located in Viking Bay. It is open to all and provides protection and shelter. Set up a bed in Trund's Hall, the massive mead hall located in the center of the city. Trade your resources and dinos in the marketplace, or build a nearby outpost.
Guide to Valguero
The new shard awaits exploration. will you be one of the first?
Server Settings:
Difficulty: .5
XP Generic Multiplier 1
XP Harvesting 3
XP Killing Dinos 5
Harvesting Multiplier 7
Food/water drain .25
PVE except on PVP event days
Baby Mature Speed 20
Besides server settings, SagaBorn RP Lite is about quality of life on the server. At level 20, Kad will provide an Item Collector, a Farmer, and a Hatchery, along with 100 materials needed to power each.
See full server settings below.
Mods by Server:
Ragnarok uses 18 mods:
CKF, S+, Super Spyglass, Jamon Stacks, Classic Flyers, eco's RP decor, Auction House, Party of Six, Advanced Rafts, eco trees, eco's garden, eco's shoppe, Wardrobe Skins, Cure Hair, Human NPC's
Valguero uses 8 mods:
CKF, S+, Super Spyglass, Jamon Stacks, Classic Flyers, Eco's RP decor, Auction House, and Party of Six
RPG Classes!
We use the Party of Six mod that gives different RPG classes to your survivor! This adds an all new level to Ark
Better Building
We have the Castles, Keeps, and Forts Medieval Architecture mod that lets you build beautiful structures and towns.
S+
We have S+ installed to help with all of those quality of life issues in vanilla Ark.
Trading
We have the Auction House set up so trade between players is possible.
Interactive Browser Map
Join the group here: https://ark.ginfo.gg?group-token=-LDmnVJNm3cKwJwA2bmA
See the map here: https://ark.ginfo.gg/ragnarok/
Rules
#1 Don't be a weenis.
Settlements:
1 Main base per Adventurer – must be out of render distance from other tribes bases.
3 outposts per Adventurer – these small dwellings can be up to 6 foundations in size. These can be near others outposts, as well as the neutral trade town of Vanad.
1 Large boat per Adventurer
1 Traveling Base per Adventurer – Any base built on a platform saddle.
Do not build in front of and block important caves.
Cave Building is allowed.
Build as realistically as possible. We want beautiful structures, not a 50′ box.
Water bases are allowed.
Dino mobile bases are allowed.
Water bases and dino bases can lean into steampunk and fantastical style buildings.
Dino capture pens are allowed, just try to break them down after use. Dino capture boats are allowed as well.
Roleplaying
Try to be in character in chat.
Tribes
Tribes can be up to 8 members.
PVP
PVP is only allowed during PVP weekends and events.
Tech
We are trying to build a themed medieval fantasy world. Some things we will have to fudge, like generators, tool tables, and fabricators. These will be hidden in buildings.
No TEK buildings or structures.
No automatic weapons, or any modern looking gear.
Simple pistol, longneck rifles, and shotguns are allowed as those could be considered blunderbusses and flintlock.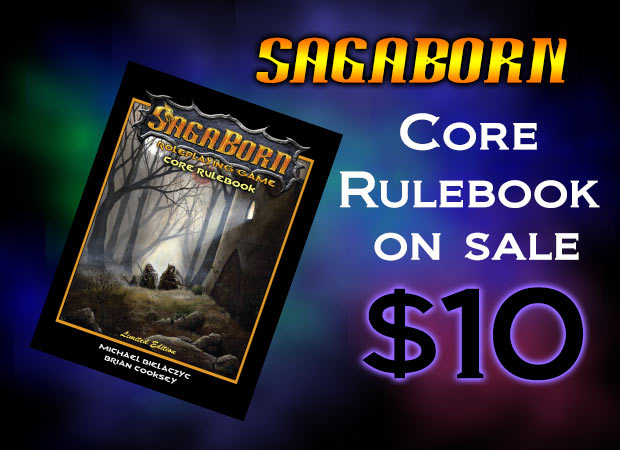 Full Server Settings:
ServerPVE=True
ServerCrosshair=True
ServerForceNoHUD=False
NoTributeDownloads=False
DifficultyOffset=0.5
DisableStructureDecayPvE=True
AllowFlyerCarryPvE=True
NewMaxStructuresInRange=1300
EnablePvPGamma=True
DisableDinoDecayPvE=True
PvEDinoDecayPeriodMultiplier=5
DisablePvEGamma=False
ForceAllStructureLocking=True
AutoDestroyOldStructuresMultiplier=1.0
bJoinNotifications=True
bShowStatusNotificationMessages=False
PerPlatformMaxStructuresMultiplier=5
AllowCaveBuildingPvE=True
OnlyDecayUnsnappedCoreStructures=True
TributeItemExpirationSeconds=86400
TributeDinoExpirationSeconds=86400
TributeCharacterExpirationSeconds=86400
FastDecayUnsnappedCoreStructures=True
OverrideStructurePlatformPrevention=True
PreventOfflinePvP=True
AllowAnyoneBabyImprintCuddle=True
DisableImprintDinoBuff=True
PvPDinoDecay=False
OnlyAutoDestroyCoreStructures=True
ClampItemSpoilingTimes=False
AutoDestroyDecayedDinos=False
PreventTribeAlliances=False
PreventOfflinePvPInterval=800.000000
TheMaxStructuresInRange=10500.000000
OxygenSwimSpeedStatMultiplier=2.000000
StructurePreventResourceRadiusMultiplier=1.000000
TribeNameChangeCooldown=15
RaidDinoCharacterFoodDrainMultiplier=1.000000
KickIdlePlayersPeriod=3600.000000
ListenServerTetherDistanceMultiplier=1.000000
MaxTamedDinos=5000.000000
AllowRaidDinoFeeding=True
EnableExtraStructurePreventionVolumes=True
ShowFloatingDamageText=True
PreventSpawnAnimations=False
CrossARKAllowForeignDinoDownloads=False
PreventDiseases=False
NonPermanentDiseases=True
TribeLogDestroyedEnemyStructures=False
PvEAllowStructuresAtSupplyDrops=True
UseOptimizedHarvestingHealth=False
AllowMultipleAttachedC4=False
AllowFlyingStaminaRecovery=False
AllowHitMarkers=True
DestroyUnconnectedWaterPipes=False
PreventDownloadSurvivors=True
PreventDownloadItems=True
PreventDownloadDinos=True
PreventUploadSurvivors=True
PreventUploadItems=False
PreventUploadDinos=False
AllowCrateSpawnsOnTopOfStructures=True
RandomSupplyCratePoints=False
DisableWeatherFog=False
DayCycleSpeedScale=.35
NightTimeSpeedScale=4
TamingSpeedMultiplier=5
HarvestAmountMultiplier=7
HarvestHealthMultiplier=2
PlayerCharacterWaterDrainMultiplier=.25
PlayerCharacterFoodDrainMultiplier=.25
PlayerCharacterHealthRecoveryMultiplier=2
PvEStructureDecayPeriodMultiplier=5
ResourcesRespawnPeriodMultiplier=.5
StructurePickupTimeAfterPlacement=30.000000
StructurePickupHoldDuration=0.500000
AllowIntegratedSPlusStructures=True
ItemStackSizeMultiplier=1.000000
DayTimeSpeedScale=1
DinoDamageMultiplier=1.0
PlayerDamageMultiplier=1.0
StructureDamageMultiplier=1.0
PlayerResistanceMultiplier=1.0
DinoResistanceMultiplier=1.0
StructureResistanceMultiplier=1.0
DinoCharacterFoodDrainMultiplier=1.0
PlayerCharacterStaminaDrainMultiplier=1.0
DinoCharacterStaminaDrainMultiplier=1.0
DinoCharacterHealthRecoveryMultiplier=1.0
DinoCountMultiplier=1.0
XPMultiplier=1