Hello Adventurers!
As we approach the earth holiday season and leave Wookie Day behind us, we wanted to announce a Kickstarter that has been rolled out. Many Bothan's gave their lives to bring us this information.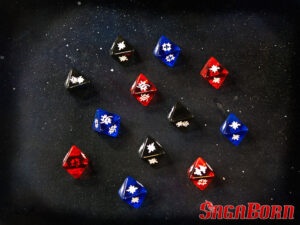 Space Battle Dice
These dice will be compatible with the Armada Game System and also come with a unique design and the same outstanding quality as our first project. These dice are fully custom made, from the symbols to the color. All is picked carefully. The dice will come in 3 transparent (translucent) colors. As with our other project, we kept everything as close and familiar as possible. We want to get you a cool looking fun 3rd party product.
The Colors
All colors will be transparent and will match the original game dice. We will have Transparent Gray for Close Range, Transparent Blue for Mid-Range and Transparent Red for Long Range. The symbols will be a little bit different but still will have the same feel to them that you are used to. Like our first product, we will guarantee the best possible dice quality. We will not compromise on the quality at all, even if that means we have to wait a bit longer (but that never happens since we work with professionals).